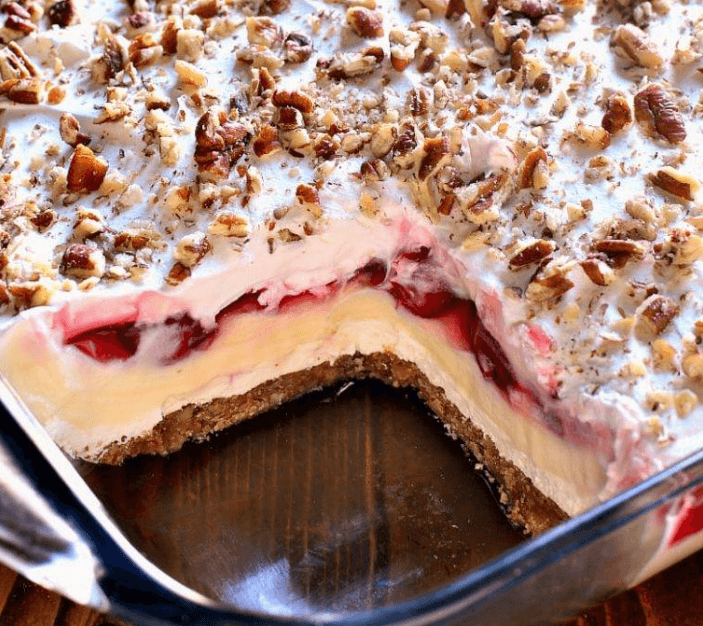 Check out this Easy Cherry Lush! You will find it loaded with a creamy cheesecake layer, then cheesecake pudding, cherry pie filling, and of course, a whipped topping. It's luscious and perfect for summer bbq's and potlucks.
Cherry Cheesecake Lush Dessert combines the flavors of cherry cheesecake with the creaminess of lush! The perfect one pan dessert recipe for the holidays and all year round!
I started with the same basic crust for this lush as I did with the Lemon version. I topped it with a layer of cream cheese mixture. Then added on some simple boxed cheesecake pudding, cherry pie filling, and some whipped topping. Oh… I added on some chopped pecans too! They were not needed but added a bit to the topping.
Lush desserts are always so tasty. The layers of yumminess always make for wonderful desserts. They are great for potlucks, bbq's, or just to have for an after dinner dessert.
When I eat cheesecake, I always like cherry topping. I guess it is traditional so I always seem to stick to what I know I will like. Since I like cherries with my cheesecake, I knew a Cherry Lush would be amazing. I can confess that I was licking the bowl while making this dreamy dessert, lol. I just couldn't wait to try all the flavors together.
Ingredients
1cup vanilla wafer crumbs
1cup finely chopped pecan…
To Find Out All The Yummy Ingredients And The Step By Step Directions To Follow for this Delicious recipes,Go to the next page.