This easy breakfast bake is warmly spiced with brown sugar and cinnamon and filled with wholesome rolled oats, toasty almonds, and juicy berries. Not a morning person? Do this as a make-ahead breakfast and all you have to do is re-heat it in the A.M.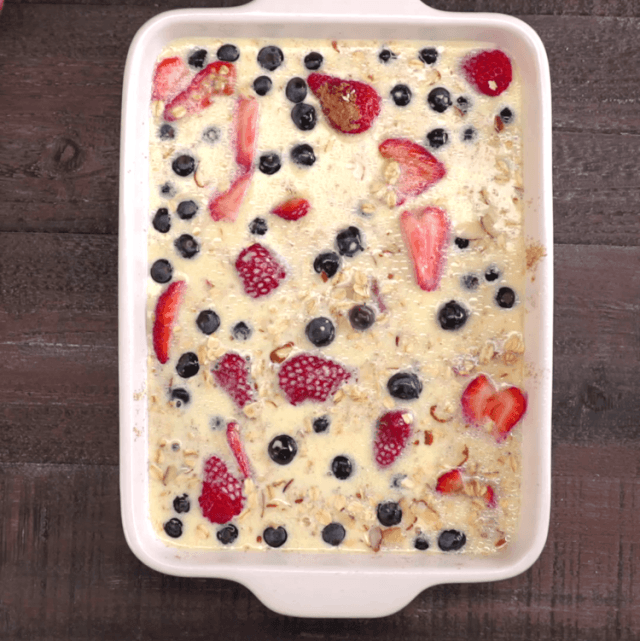 No breakfast is as heartwarming as a hot bowl of oatmeal. Share that love with a crowd — and keep them full till lunch — with this delicious oatmeal bake.
Ingredients
1¾ cup rolled oats
½ cup brown sugar
¼ teaspoon kosher salt
½ cup sliced almonds
1 teaspoon cinnamon
1 cup blueberries
1 cup strawberries, stemmed and cut in half
1 egg
3 Tablespoons vegetable oil
1 teaspoon pure vanilla extract
2 cups milk
Directions
Preheat the oven to 350°F / 175°C. Spray a 7-inch x 11-inch baking/casserole dish with non-stick cooking spray and set aside.
In a medium bowl, mix the rolled oats, brown sugar, salt, sliced almonds, and cinnamon.
Spread half of the oat mixture evenly into the prepared dish. Scatter half of the blueberries and strawberries over the oats, then top that with the remaining oats mixture and the rest of the fruit. Give the baking dish a slight shake to help the ingredients settle into place.
In the same bowl you used for the oats mixture, combine the egg, vegetable oil, vanilla extract, and milk. Mix until everything is well combined, then pour the milk mixture over the oats and fruit.
Bake for 40 – 50 minutes or until the oats are golden brown, have set, and are tender.
Source: tiphero.com