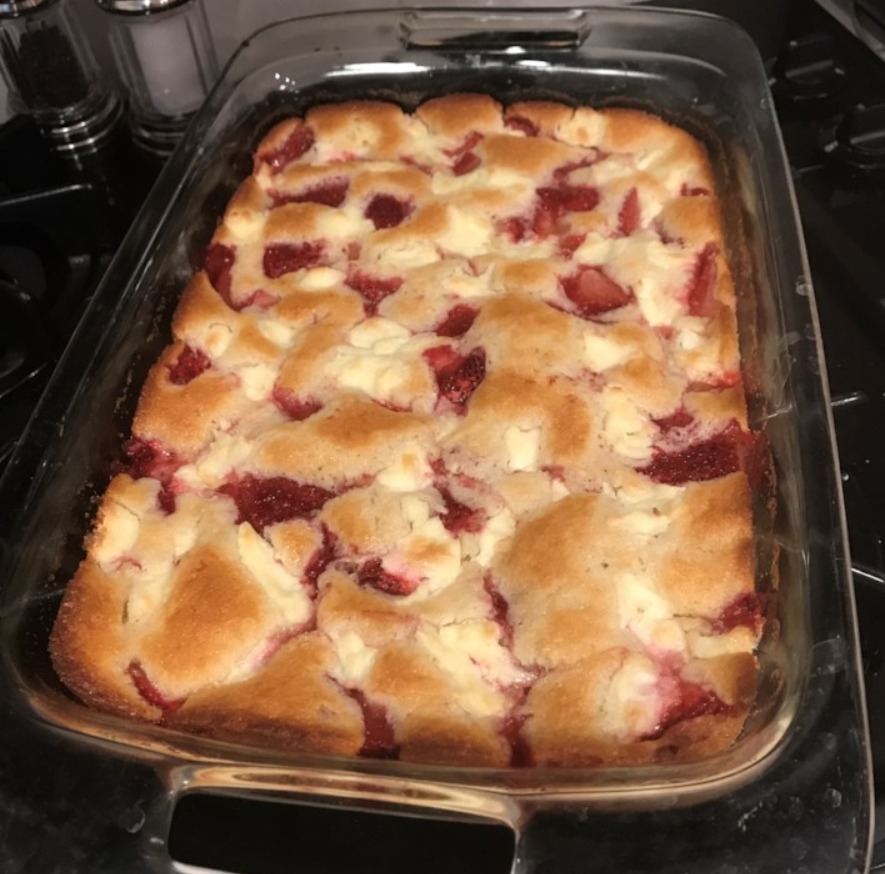 This strawberry cobbler is one of the best strawberry desserts I've had in a long time.
This is a sweet strawberry treat that I'm sure anybody could appreciate. Rich tasting and sweet, this recipe is great for any occasion (especially potlucks)
I stumbled across this recipe one day after I had been to the store. I had bought a strawberry cobbler there and had cut a piece to eat when I got home. Needless to say it was disappointing.
I figured that I could make a better one from scratch. So I set to it and here it is, and boy is it delicious
Reviews about the recipe:
"This was such a great easy recipe! Im on weight watchers so I made a few tweeks. Instead of using 1/2 cup of melted butter I just thinly greased the pan with the edge of a stick of room temp unsalted butter. About 20grams in measurement. Also I used the same measurement for flour but used white whole wheat (look it up! Its whole wheat flour but has the texture and taste of white flour – you can find it at any health store). I only had frozen blueberries on hand so I used that. To get more flavor and less calories I stirred 1 tbs of brown sugar and 1 tsp of pure vanilla into the 4oz cream cheese then put it into a ziploc bag cut the bottom corner and squeezed it out in a swirl shape on top of the fruit and batter. The entire pan of cobbler is 33 points! So at 12 servings thats only 2 1/2 points each!!"
"It was good and easy to make. I used half cup of flour, sugar and milk. One teaspoon of BS 1/4 cup of butter and 1/4 tsp of salt. Oh and I added an egg because there was another recipe I had that included an egg. I just guessed how many strawberries and how much cream cheese. I did half because I baked it for myself. I goggled pics and my cobbler didn't look like the pics. My strawberries and cream cheese was underneath the cobbler, not peaking through. So I don't know if I did something wrong or not."
"I followed the recipe exactly the first time and loved it, although it didn't get very thick using the described pan. Next time I made it, I doubled the recipe and added a layer of chocolate chips between the crust and the strawberries….. O.M.G!!! My husband, who "just likes" strawberries couldn't get enough! Said it was a definite keeper recipe! Making it again tonight for dessert!"
Ingredients
* 1/2 Cup butter
* 1 egg lightly beaten
To Find Out All The Yummy Ingredients And The Step By Step Directions To Follow for this Delicious recipes,Go to the next page.