These chicken wings are sprinkled with some olive oil to help them get crispier and make them taste absolutely amazing. You can use any sauce combination that you like. You can go bold and crazy or play it safe with a mild sauce.
These Baked Chicken Wings Are Totally Worth Waiting For…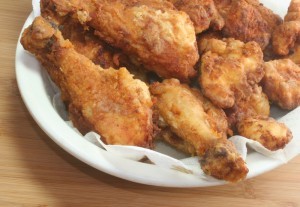 Like bacon, chicken wings are damn delicious at least in part because of their generous dose of rich fat. Cook it over a rack, and the excess drips away onto the sheet, leaving you with wings that rival the fried kind in crispiness.
Before You Start Baking Your Chicken You Need To Follow This Step. 
Crispy chicken that looks and tastes like it's fried is a really simple recipe. Especially when you have a really good seasoning blend to go over However, there is a trick about the rack and the positioning that you need to follow.
If You Do Not Follow This Step You Can Either Burn Or Dry Out Your Chicken!
To See The Full Set Of Step By Step Directions That You Absolutely Need To Follow Please Head On Over To The Next Page…