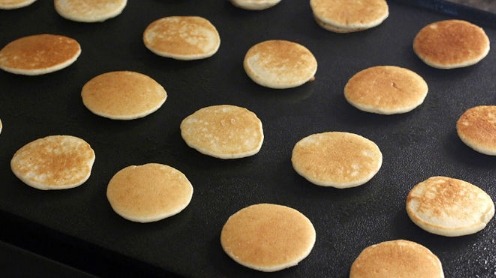 This is my favorite pancake recipe that I make for my family and friends. They are soft, fluffy, and very easy to make.
Ingredients
1 small bottle Bisquick™ Shake 'n Pour™ pancake mix
1 small jar Nutella®
1 pound fresh strawberries, washed, stems removed, sliced into 1/2 inch thick slices
2 large firm bananas, peeled and sliced into 1/2 inch thick rounds
4 wooden skewers broken in half or 8-12 medium appetizer skewers
Steps
1-Prepare the pancake batter according to package directions and pour small dabs of batter onto a hot, lightly greased griddle for 1 -1/2 inch diameter pancakes (about 3/4 tablespoon of batter per mini pancake).
2-Cook the mini pancakes for about a minute on each side or until lightly browned.
3-Spread some Nutella® on each of the pancake bites and layer the ingredients onto the kabob sticks. Serve immediately and enjoy!
From: tablespoon.com / allrecipes.com