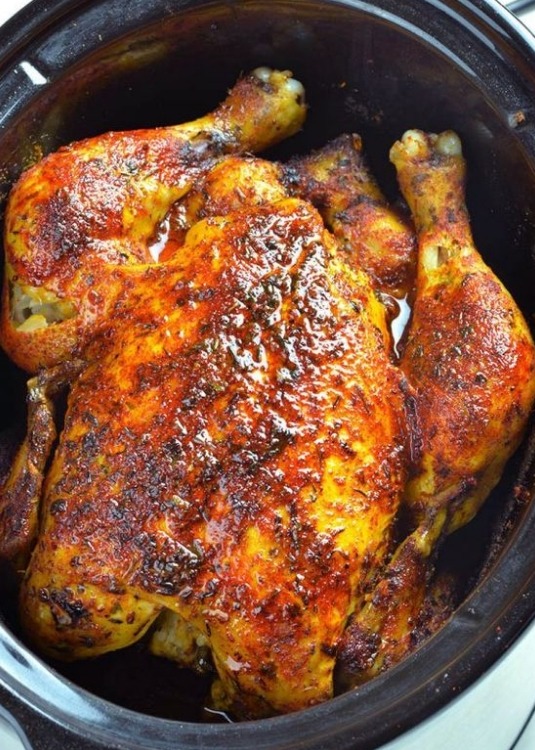 Slow Cooker Rotisserie Chicken with just a few spices and in the slow cooker with CRISPY skin without a second spent in the oven! Better than store bought!
This is THE BEST chicken ever! We buy lots of chickens when on sale, then coat with the seasoning mixture and freeze. Recently I have been making the sticky chicken in the crockpot and it turns out just as delicious and it's lots easier. The drippings make the most fantastic gravy ever. I try to have this on the menu a few times each month. Terrific!
This is a GREAT chicken recipe. I'm sure most of it has to do with the baking technique, but the spice combination is great too. This chicken was falling off of the bones! I baked a 4 lb chicken for approximately 4.5 hours, and that was probably a bit too long. I followed the recipe, halving it as I was only baking one chicken. I did make some changes as follows:
*Only used 1 tsp salt
*Kept the onion powder and garlic powder amounts the same, didn't halve them.
*I didn't have an onion to put in the cavity, but did have a bunch of green onions. I cut them in 3rds and stuffed them inside the chicken along with some minced garlic.
*I brushed the chicken with melted butter prior to rubbing the spice mixture on (had some spice mixture left over).
* I took four pats of butter (about 2T total) and shook them into the remaining spice mixture, completely covering them. I then put 2 pats under the skin of the chicken on top of the breast on each side.
* I cut up potatoes and carrots and placed them in the bottom of the pan, placing the chicken on top when baking it.
This turned out great. The skin was crisp, the meat was juicy and tender. The juices made an EXCELLENT gravy. Definitely a keeper!
Ingredients
1 whole chicken 4-5 pounds, fully defrosted
2 teaspoons garlic salt
1 teaspoon coarse ground black pepper if using standard ground, use 1/2 teaspoon
2 teaspoons paprika plus a bit for sprinkling
Instructions
Clean out the inside of the chicken and pat it completely dry inside and out with paper towels.
Mix the seasonings together and rub all over the chicken inside and out.
Using Heavy Duty Foil, cut two 18 inch pieces.
Roll each piece the long way, loosely, so the tube of foil was as long as possible, then curve it like an oven heating coil, like a flattened S.
Place the chicken on top of the foil, sprinkle with a bit more paprika.
Cook on low 8 hours.
Note: click on times in the instructions to start a kitchen timer while cooking.
From: allrecipes.com