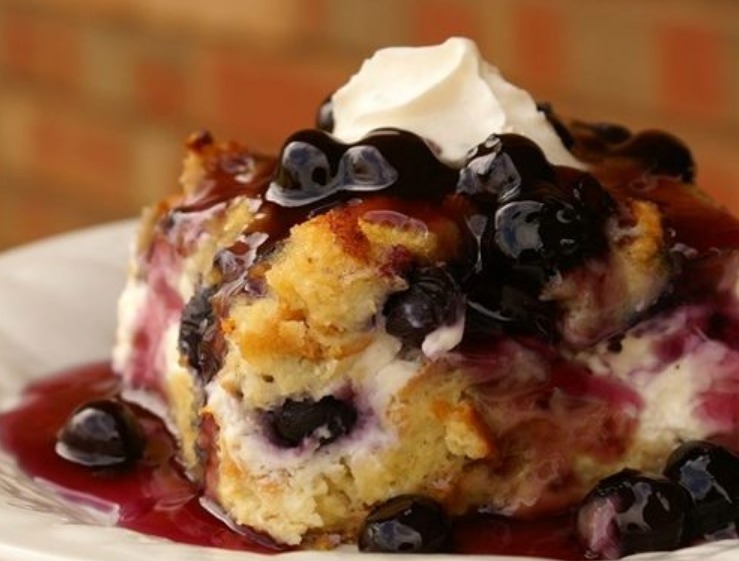 TOP Reviews:
YUM! I made this for Christmas morning for my inlaws. It turned out great. I did take a lot of the suggestions and modified this recipe. Here's what I did: Used Italian bread from the bakery (French bread seemed like too much crust). I also whipped 1 1/2 bricks cream cheese w/ 1/4 cup confectioners sugar and spread it over the cubed bread. I used frozen blueberries (thawed) and only 10 eggs. I also made sure to press the bread down so that everything got french toast consistancy. The syrup is delicious!! I made 1.5 times and poured 2/3 of it over the dish and the other 1/3 was put on the table for those who wanted a little bit more. Overall, this is a great recipe!! Will be sure to make at my next brunch. Thank you!
Delicious and beautiful, and perfect just as written. I used a good quality Italian bread, and chose to serve the blueberry sauce on the side. My out of town guests, both of whom are professional chefs, loved this so much they asked for the recipe. Gooey, creamy and crunchy all at the same time, depending on what forkful hits your mouth! Any leftover sauce (I made a double recipe of it) would be great on waffles, pancakes, pound cake or ice cream. We all enjoyed this very much!
I am only giving this 3 stars because, as written, it needs some work. It is, however, a great basis for a recipe. I try to only give feedback that I think is truly helpful, so here are my suggestions. 1. Make sure you use a good hearty bread like an Italian or French loaf from the bakery. If you use basic loaf bread, it will be way too soggy. You do not want a soft or delicate bread. 2. After placing the first layer of bread, sprinkle with cinnamon for more flavor. 3. After reading many reviews, I decided to mix 1.5 blocks of cream cheese with 1/4 c. of powdered sugar and then spread it on the bread. I thought it was still hard to spread, so next time I will add a little milk to thin it out. Maybe also a dash of vanilla. 3. I used frozen blueberries (thawed) & they worked well. You could also definitely use more than a cup in the middle of the french toast. 4. After placing the 2nd layer of bread, sprinkle with cinnamon again. 5. I thought the blueberry sauce was lacking a certain wow factor, so I added a little fresh lemon juice. This definitely gave it what I thought had been missing. Overall, this was very good with modifications and would be great when you have have company. Next time, I will make this with strawberries instead, and I'm betting it will taste like a breakfast version of strawberry shortcake!
I made this for holidays Eve Brunch. I followed the advice of others and decreased the cream cheese to 10 oz. I added a little milk and whipped the cream cheese and spread it on the slices of bread. A little messy but it was evenly distributed. I also took the advice of others and doubled the amount of blueberries in the syrup and in the dish itself. Atleast use one and a half the blueberries when making it. I cut the sugar in the syrup to 3/4 cup – it was plenty sweet. I added a dsh of cinnamon and nutmeg to the syrup too. I still had a request to get out the regular maple syrup. All in all, a very easy dish that is a little different from the standard egg casseroles so often served for a crowd at breakfast or brunch. I would make this again – next time I will try strawberries.
Ingredients
12 slices day-old bread, cut into 1-inch cubes
2 (8 ounce) packages cream cheese, cut into 1 inch cubes
To Find Out All The Yummy Ingredients And The Step By Step Directions To Follow for this Delicious recipes,Go to the next page.