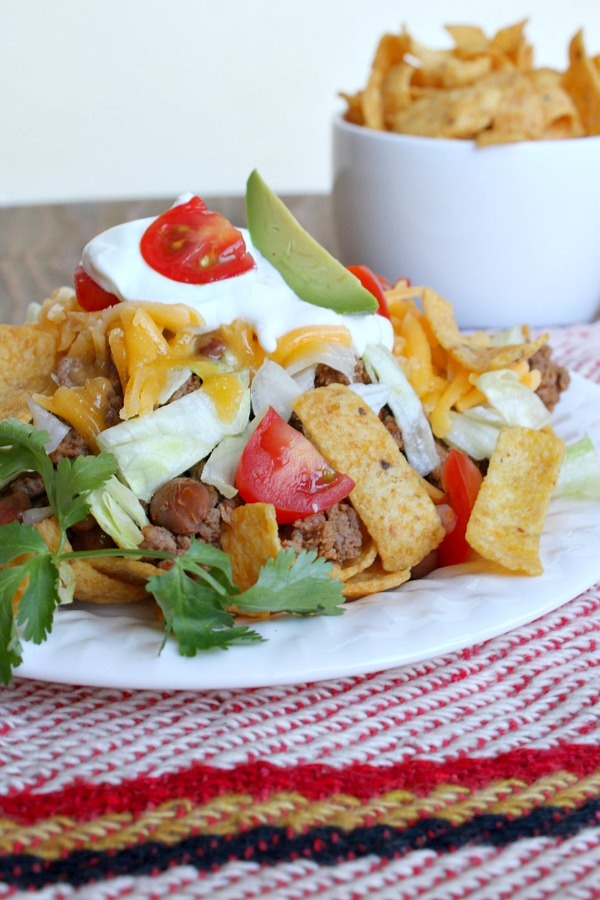 Yield: 6 servings
Prep Time: 30 min
Cook Time: 20 min
Ingredients:
2 pounds lean ground beef (90% lean)
3 tablespoons chili powder
2 tablespoons all-purpose flour
1 teaspoon salt
1 teaspoon garlic powder
2 cups water
1 can (15-ounces) pinto beans, rinsed and drained
4 1/2 cups corn chips
2 cups shredded lettuce
1 1/2 cups (6 ounces) shredded cheddar cheese
3/4 cup chopped tomatoes
6 tablespoons finely chopped onion
sour cream and minced fresh cilantro, optional
Directions:
1. In a Dutch oven, cook beef over medium heat until no longer pink; drain. Stir in the chili powder, flour, salt and garlic powder until blended; gradually stir in water.
2. Add the beans. Bring to a boil. Reduce heat; simmer, uncovered, for 12 to 15 minutes or until thickened, stirring occasionally.
3. To serve, divide chips among six serving bowls. Top with beef mixture, lettuce, cheese, tomatoes and onion; garnish with sour cream and cilantro, if desired.
Tips:
*I used the 90% lean ground beef for this recipe, but I wouldn't recommend using any leaner than that. You definitely don't want your ground beef to be dry.
*My family does not like raw onion, so I cooked the onion along with the beef.
*I don't buy low-sodium beans because they tend to be pretty flavorless, so I recommend you don't either.
*I used Fritos.
*Iceberg lettuce isn't great in a salad, but it's nice in Mexican food because it has a crunch to it.
*Sharp cheddar will give you the most flavor in your cheese.
*I added fresh avocado on top.
Source CulinaryCovers