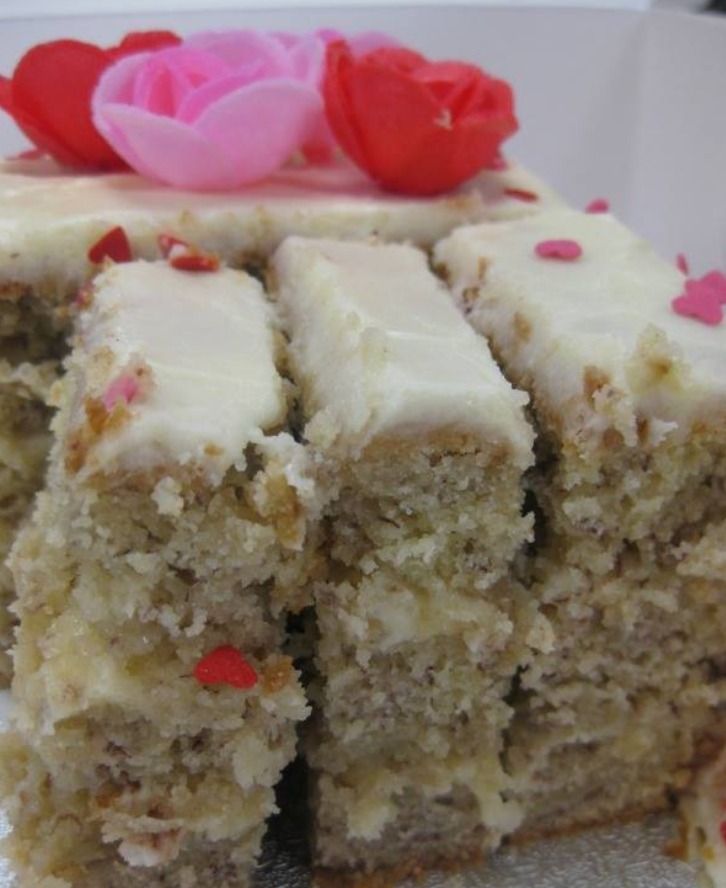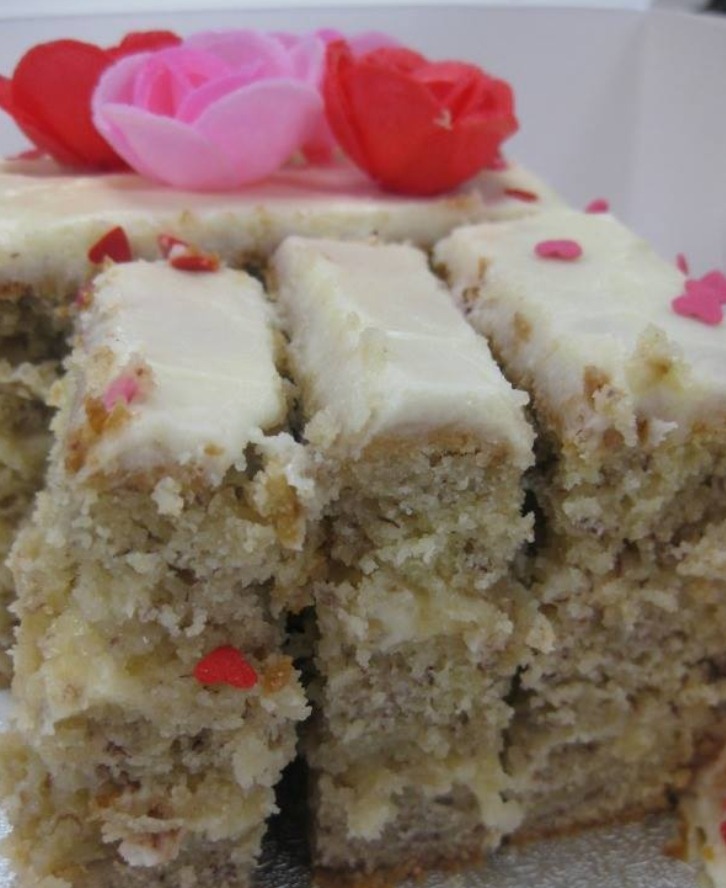 This cake was first made for me by a friend while I was visiting her after she had delivered her 11th child. I told her, 'I should have baked for you!
Baking a cake at a ridiculously low temperature (traditionally it's 350 degrees), then putting a hot cake right out of the oven into the freezer? What? I was tempted to simply bake this in the traditional manner, 350 degrees until done, then let cool on a wire rack. But I noticed the submitter's review, and she was so adamant about the unconventional baking temperature and cooling method that I thought to be fair to her I'd give it a try (especially since it was the rare occasion where I had enough room in the freezer for it). Well let me tell you, I don't know if the cake would have turned out any differently had I baked it in the traditional manner, but this was one, outstanding banana cake! To tell you the truth, I was surprised. It is not uncommon for these types of cakes to be dry or not to be baked through. But this one has a soft outer crust, not overly browned, and a moist, tender interior. It was fun to give this unusual set of directions a try and I'm glad I did. Other than make a half recipe in an 8×8″ pan and adjusting the baking time accordingly, I followed the directions exactly and was not disappointed. Now that I've had the first piece I can't wait to share it! The added perk was that because the cake is cooled in the freezer, you can bake and serve this in no time! The frosting is a tried and true cream cheese frosting, and topped with a sprinkle of finely chopped nuts, this was just a simply delicious and beautiful cake.
This is my recipe, the temperature is not a mistake in the directions. It is to bake at a slow rate to keep the cake moist. This recipe has been made by tons of friends of mine over and over, not one of them has had a problem with the directions, temperature, or the ingredients. Check your oven temperature with a thermometer, also use the correct size pan. It all makes a difference!!! Pyrex pans are freezer to oven…their claim to fame when first on the market…that dates me, I guess.
A WOW!!! cake – brilliantly easy and simply scrumptious! At this time of posting, it is hardpressed to keep the remaining half for dear hubby when he gets home later, lol; the children – who vehemently declared not liking banana cake, groaned and moaned their pleasure and this will now be THE banana cake recipe with us. The changes after reading all the reviews (thank you to all) are: decreased the sugar to 1 cup using (packed) brown sugar, increased bananas to 1 3/4 cups, used self-raising flour with 1 teaspoon baking powder, omitted the salt, doubled the vanilla and baked it for 40 minutes at 325 degrees. Tried freezing but 10 minutes only just to cool it down quick smart; the cake is moist even without freezing it for the stated time … I have the proof 😉 so to 'speak', lol. And I sprinkled a bit of chocolate rice on one side, left the middle plain and chopped pecans on the last 'division' … and served the cake with homemade caramel sauce. With the decreased amount of sugar, this is just right. We loved the plain or with pecans, but not chocolate rice, maybe either some cocoa powder or melted chocolate would be better. Kept the cream cheese frosting for my carrot cake. Thanks to both Cindy and her friend who shared the recipe with us here. Good one.
Ingredients :
1 1/2 cups bananas, mashed, ripe
2 teaspoons lemon juice
3 cups flour
To Find Out All The Yummy Ingredients And The Step By Step Directions To Follow for this Delicious recipes,Go to the next page.