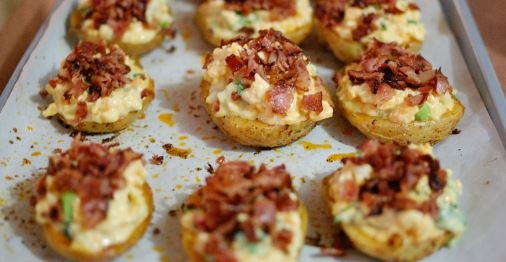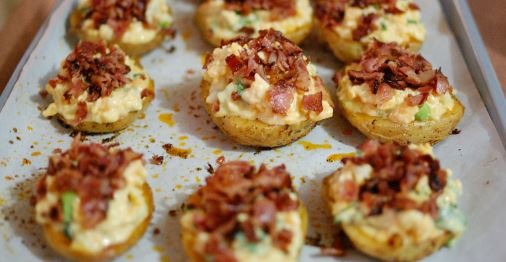 I have had potato skins tons of times in my life. They are tasty. I don't often make them at home though, just because I always figure it's too much work. I just wait until we go out to eat and have them at a restaurant. They can do the work. Then, we were having a game night at our house, and one of the people that were coming suggested that we do an everybody bring an appetizer potluck. I wanted to give everyone that was coming the option to choose what they wanted to bring first, just because I was going to be in my kitchen and they had to transport whatever they made.
So, right away, all the easiest appetizers were scooped right up. Well, now what was I going to make? I decided to do a quick search online for popular appetizers…. ah…. potato skins, of course. I contemplated for a short time about buying store-bought ones and just heating them up. That would be cheating though I guess.
I found this recipe on Cravings Of A Lunatic and it didn't look too crazy to make, so I figured that was going to be the ticket. They actually went together pretty smoothly. It was a lot easier than what I thought. These were one of the first dishes to disappear so they must have been good.
Recipe courtesy of Cravings Of A Lunatic. Photo credits go to Cook Eat Delicious.
Continue to the Next Page …