TOP Reviews:
I made some changes to this recipe because I didn't have an onion. I added a teaspoon of dijon mustard, a teaspoon of lemon juice, half a teaspoon of black pepper, two tablespoons of sour cream, and a dash of tabasco. The patties came out delicious, and I am giving this recipe five stars because it provides a great base that you can personalize to your taste.
These hit the spot! I've been craving salmon patties so I guess I must need the omega 3's. I looked in some old cookbooks and salmon cans used to be 16 ounces then, 15 something, and now they're 14 something. (Trivia!)
I loved the reviews, and joined this web site to do this one! This is my first review, woo hoo! I implemented the sour cream and garlic salt suggestion. I also added a little lemon pepper. I ended up adding another egg and some more bread crumbs to make them stick together better. My bread crumbs were the "Italian Style" seasoned kind "Vigo" is the brand name with Romano cheese! Mmmmm I buy the honking huge container from Sams club.
My batch made six hamburger size patties and I first tried frying them with a few squirts of Pam. They got too brown before they got done all the way through = no good. The next batch I fried in about a quarter inch of corn oil and they turned out great! Well of course, because they were more fattening! I drained them on paper towels and served them with cocktail sauce. My husband said that his mother used to make them smaller and thinner (Hint hint!). She was the best cook ever and as a wedding present she taught me how to make real biscuits and gravy. (May she rest in peace.) Anyway, next time I'll make 12 smaller thinner patties with the same recipe.
This recipe is so easy and quick to make. My nine year old daughter even likes this. She did like it better when I made it with cracker crumbs rather than bread crumbs. If you're not a fish person (I'm definitely not), I'd suggest you buy the salmon that comes in a tuna-sized 3 oz. can. I bought "traditional" salmon in a big can and was grossed out by it. It literally looked like a salmon had been cut down to size and stuffed in a can, skin, bones and all. I threw it away and couldn't bring myself to eat it. The little cans are boneless/skinless and look like the tuna I'm used to seeing.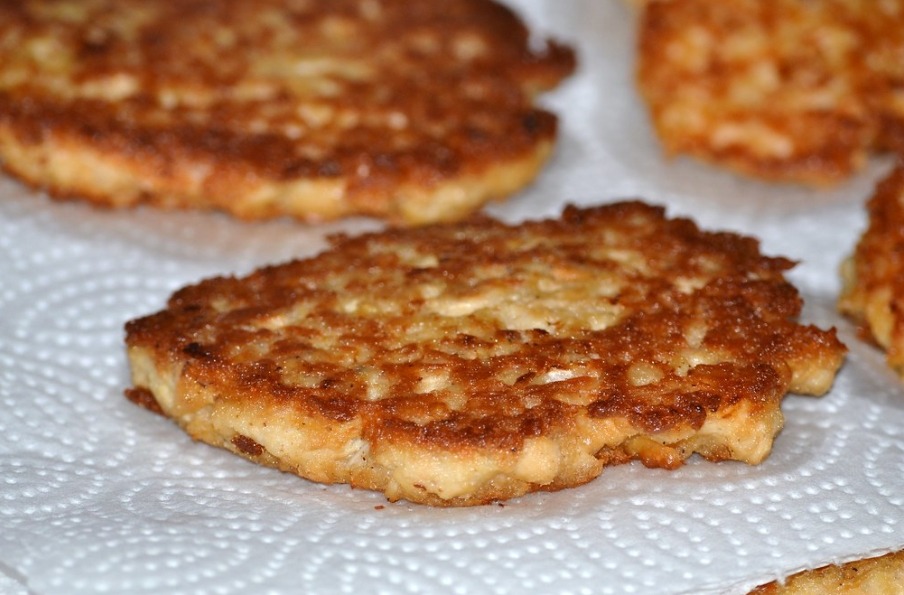 Very good and easy. I added about 1 tsp of Old Bay and some fresh grated garlic. Made a dipping sauce of 1 cup sour cream, about 1 T of lemon juice and 1 tsp dill weed. (Adjust measurements to your taste.) Everyone in the family loved these. Can't wait to make them. again.
I honestly have not made this particular recipe, but with one exception, it has all the same ingredients as my mom's salmon patties and we all just love them. The one exception is that we use crushed saltine crackers for the bread crumbs. It adds a lot of good flavor. Another suggestion – mom always served hers with a sauce made from a can of cream of mushroom soup, thinned with about a quarter cup of milk. She then diced one or two hard boiled eggs and stirred them into the sauce. I'm so used to having this sauce that I won't make the patties now if I don't have cream of mushroom soup in the house!
so simple yet so good!!! a great basic recipe…i added 1 tbs lemon juice, a sprinkling of pepper, prarika and served it with thai sweet chilli sauce and wasabi mayonaise!! Yum!!
Ingredients
1 can(s) Bumble Bee salmon, drained
1/2 c Ritz cracker crumbs
To Find Out All The Yummy Ingredients And The Step By Step Directions To Follow for this Delicious recipes, Go to the next page.