I am always baffled when I come across people who do not like cabbage. While sure, as a child I did not care for it but as I grew my taste evolved, as everyone's does, and cabbage became one of those things that I truly enjoy making as well as consuming. I also do not limit cabbage to the cabbage "high holiday" of St. Patty's Day but rather try and incorporate it into our menu throughout the year. is amazing and it's sad to me that some people only eat it around St. Patty's Day! Having two kids is amazing and it's sad to me that some people only eat it around St. Patty's Day!
Having two kids it's amazing that I am able to do so however they seem to have become accustomed to and actually enjoy these dishes. So I dug into our recipe stash and found one I know you will love. It combines two of my favorite things, cabbage, and casseroles! We have gone ahead and compiled a list of ingredients and steps you will need in order to make this dish a delight for the whole family.
You Can Either Use Colby Jack Cheese, Swiss Or Cheddar, We Like Using Cheddar Because It's Sharpe But This Is Just A Preference.
Here Is What You Need…
The Ingredients To Gather:
2 lbs. ground beef
Salt and pepper or creole seasoning
1 onion, chopped
1 cup rice, uncooked
3 large handfuls of roughly chopped cabbage
1 8 oz. can tomato sauce
2 cups of water (I just use the tomato sauce can twice)
1 14 oz. can diced tomatoes, undrained
1 cup shredded cheese (I used Colby Jack)
The Step By Step Directions To Follow:
Once onions are clear, add rice, cabbage, tomato sauce, 2 cups of water (or use tomato sauce cans) and diced tomatoes. Stir.
Let it come to a boil and then reduce heat to medium low and cover to simmer for about 20 to 30 minutes or until rice is done and cabbage is soft. Do not lift lid before 20 minutes to make sure rice cooks well.
Once cooked, top with cheese and cover with lid to melt a few minutes.
If You Think This Cabbage Casserole Is Pretty Friggen Good Just Wait Till You See How To Make This Cheesier Cabbage Dinner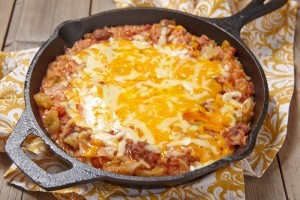 We Love Cabbage Casserole but sometimes we just want something that has a little kick to it. That is why this German Cabbage Casserole really knocked our socks off.
If you like Cheese, Cabbage, Beef and a lot of different herbs and spices to really elevate flavor, we highly suggest trying this version.
For Another Cabbage Casserole Recipe, That Is Slightly Different, Yet Has A Little More Spice To It, Please Head On Over To The Next Page….