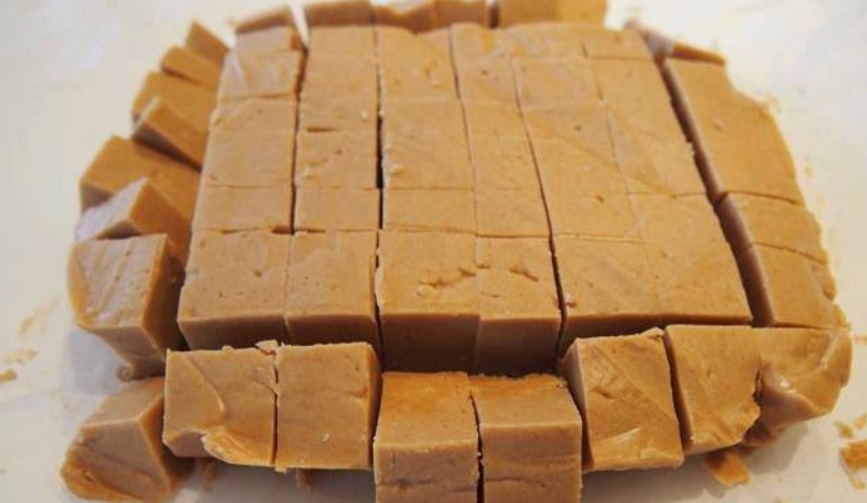 Most Popular Reviews From Food.Com
Made this last night and brought it to work today. It should last until 10 am maybe. Good recipe. Quick and easy. But really rich!
This is absolutely the easiest fudge to make in the whole universe! I made two batches. In the first batch I used crunchy peanut butter and added 2/3 cup mini morsels according to Dottie5's suggestion. A very nice chocolate peanut butter fudge evolved (the morsels melt right in). My second batch was done according to the recipe. I think I actually liked the second fudge better, but both were great. When I looked at the available flavors of canned frosting, I started thinking that I might experiment more next time…cheesecake, chocolate fudge flavors… Oh, the total cost to make (in SE Alabama) was $2.50.
Used plain vanilla frosting and chunky PB and it tastes great and was done in a snap with minimal cleanup. Mixed them together and heated in the microwave and lined pan with waxed paper. Done in a snap!
My husband kept insisting "It's not fudge." I think that has something to do with the texture – it doesn't firm up as much as more complicated fudge recipes. Still, it's yummy, and a great recipe to pull out of the hat at the last minute. I used a can of "Fun Favorites" that I had on hand (the one that has the pouch of candy coated chocolate & sprinkles). I added the colored bits just before pouring into the pan, and they mixed in without melting. This makes me think you could add red & green sprinkles if you wanted a more "Christmasy" presentation.
It sounds like wizardry but it is easy and delicious. I used Duncan Hines Creamy Home-Style classic vanilla frosting. I also added 2/3 cup chopped peanuts to peanut butter and 2/3 cup of miniature chocolate chips (Hersheys) to peanut butter and frosting mix. Very impressive with little effort! Again…Delicious!
WOW!! This recipe is amazing! It's amazing because:
A.) It takes less than 15 min to make from start to finish
B.) It only has 2 ingredients
C.) I never had to turn on the oven
D.) It taste so freakin good
E.) Cost less than $5.00
I followed this recipe but I did read the reviews before making it, a lot of people were saying that it didn't have fudge consistency so I added 1 cup of powered sugar and it was simply amazing!
This is so simple it's almost silly! My only quibble would to say that I don't think it's "fudge". But, recipe title notwithstanding, this candy is very tasty and just so, so easy to make. I bought a 500-gram jar of peanut butter (I used smooth) and a tub of french vanilla frosting — it all worked great. After putting the mixture into an ungreased 13×9 pan (another time saver!), I noticed that it firmed up quite quickly. All in all, a great recipe to keep on hand for the holidays. I plan to serve little squares of this in red foil cups on my xmas cookie platters. Thanks for the recipe!
To Find Out All The Yummy Ingredients And The Step By Step Directions To Follow for this Delicious recipes,Go to the next page.