This is a delicious, moist cake with a tart, tangy icing. I made it for Easter, making it again for weekend company. No need to mess with a successful recipe!
Meh! Meh! OK, I like my flavors full-bodied, but this recipe lacked lemon-ness, particularly in the cake. Interesting texture to it, but bland. The frosting was better, but I added more lemon juice (also upped the conf. sugar by 1.25 cups). It also hardly seemed "easy," but perhaps that goes along with zesting and juicing lemons. Not making it again.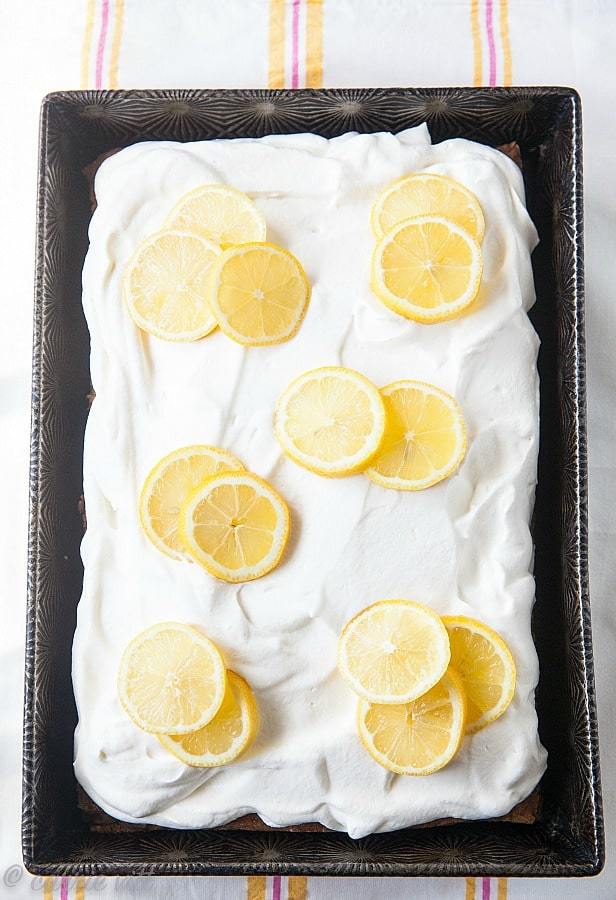 Good cake! I followed the suggestions to add more confectioners sugar to the frosting. I ended up adding an additional 3/4 cup.
This cake was fantastic! Easy, came together quickly, and delicious. The cake texture is perfect, it's moist without being dense and it's not very crumbly. The frosting is very lemony, and plenty to cover a 9×13 cake with about a 1/4" thick layer of frosting. Be sure to take the time to whip the frosting.
I added extra zest because of the comments here. A couple things surprised me. First, the cake took 50 minutes before it was done and the cake rose to the top of the pan, about 3 in. high. I'm wondering if it raised so much because after I had mixed the lemon with the milk, I realized I had less than a cup of sugar and ran out for more. The mixture sat for about 40 min. Also, I found I had plenty of frosting – extra, in fact. Finally, I mistakenly had lowfat milk so added cream. Delish!
Per other comments, I added more lemon zest into the cake and frosting to get the lemony tang. I think it still could have used more in the cake itself. The cake came out very light and fluffy and the frosting was very creamy without being cloying. Overall, I really enjoyed this cake – simple and sweet!
ingredients:
1 duncan hines moist deluxe lemon cake mix
1 c buttermilk
To Find Out All The Yummy Ingredients And The Step By Step Directions To Follow for this Delicious recipes, Go to the next page.