Even though I like to change up the menu at our house there are a few staple meals I keep in constant rotation. Usually for starters I make them over and over again because they are just plain yummy!
But also I like to repeat dishes that keep well.
I love a dish that I can make in a large quantity on Monday and then serve it a again on Tuesday or better yet throw it in the freezer for a later date.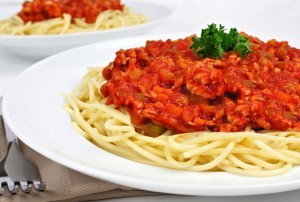 One of my favorite repeat meals is meat sauce!
The great thing about meat sauce is the ingredient list is short and the taste is huge. I let a big pot simmer for hours and all I have to do is figure out how I want to serve it.
Meat sauce is one of those foods that actually tastes better the next time you eat it! All the flavors meld together and it never has that "leftover, re-heated taste no matter how you serve it the next day.
For The Tasty Recipe For Meat Sauce That Can Go Over Just About Anything Please Go To Page (2)…